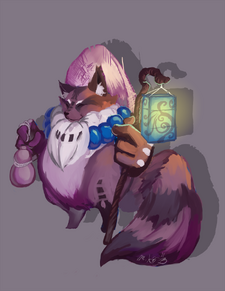 Name: Wesley/Dinner/Sir Fighter of the Last Land of Dolphins, King of the Merpeople
Demon (Tanuki)
Element: Holy
Age: 2
Area of Origin: DAMMED Labs
Reference: Deviantart
Wesley, also known as Dinner or Sir Fighter of the Last Land of Dolphins, King of the Merpeople is a lesser holy demon created in the DAMMED laboratories by Donni Net and Irata. He was won by Addule in a Halloween contest in 2012.
Personality
Edit
Happy, friendly little mofo who seems impervious to just about anything. He is a greedy and gluttonous little bugger who spends most of his time lazing around and sleeping, eating or pranking people (usually with his bro Iago).
No food or booze is safe from him.
Background
Edit
He was created in the DAMMED laboratories by Donni Net and his partner Irata along with Iago and was given out as a prize during the 2012 Halloween contest on base.
He was won by Addule and has lived with him ever since, getting fatter and fatter.
Photokinesis:

Illusions: He can wrap light around him to appear as someone or something else. The illusion breaks as soon as he's touched.
Relationships
Edit
Ad blocker interference detected!
Wikia is a free-to-use site that makes money from advertising. We have a modified experience for viewers using ad blockers

Wikia is not accessible if you've made further modifications. Remove the custom ad blocker rule(s) and the page will load as expected.