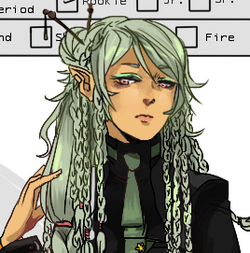 Name: Mao or Mei I don't
Demon (species)
Partner: Jiao Long (Jo Lee, Fuckin' Jo)
Element: Plant
Age: 
Birthday:
Area of Origin: China
Reference: Deviantart
Mao, otherwise known as Mei, (Born like 3000 years ago in China) is a bonded plant demon formerly recruited to the DAMMED program. She was drafted with the very first round of recruits with her partner Jiao Long.
Personality
Edit
Hell if I know.
Background
Edit
Blood you will help me fill this out I haven't a clue.
Relationships
Edit
Acquaintances
Edit
Not Friends
Edit
Ad blocker interference detected!
Wikia is a free-to-use site that makes money from advertising. We have a modified experience for viewers using ad blockers

Wikia is not accessible if you've made further modifications. Remove the custom ad blocker rule(s) and the page will load as expected.