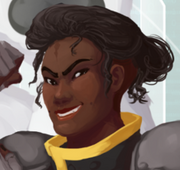 Name: Freyja Almstedt (nee Thorsen)
Rank: Sergeant
Demon (Species: tba)
Partner: Elliot Johnson
Element: Electric
Birthday: ??/??/1895
Hometown: Southern Norwegian Lapland
Reference: Deviantart
Sergeant Freyja Almstedt is a bonded demon officer of DAMMED. She is apart of the Inquest's medical division.
She is bonded to Sergeant Elliot Johnson
Personality
Edit
A headstrong, egostisical, and maternal demon officer. Surprisingly resilient and clever. Incredibly impulsive.
Background
Edit
Post-bond
Edit
Physiology
Edit
Demon Form
Edit
Human Form
Edit
Partner Relationship
Edit
Electrogenesis
Electricity Manipulation
Bioelectrical maniulation

​Both Freyja and her partner use electrical currents as a form of medical therapy for treatment of injuries and pain.
Electrical Current sensing
Neuroelectrical sensing
Other Relationships
Edit
Ad blocker interference detected!
Wikia is a free-to-use site that makes money from advertising. We have a modified experience for viewers using ad blockers

Wikia is not accessible if you've made further modifications. Remove the custom ad blocker rule(s) and the page will load as expected.