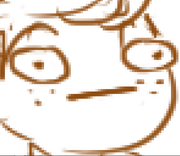 Name: Cillian Ruaidhrí Bradley
Human
Partner:
Element: Fire
Age:
Birthday:
Hometown:
Reference: Deviantart
Cillian Ruaidhrí Bradley [Killian Rue-ri] is a loser.
Personality
Edit
Cillian is a dork.
Background
Edit
Too ginger.
Post-bond
Edit
Still Ginger.
Pyrogenesis
Fire Manipulation - The capability to manipulate his own fire and source neutral fires (those being started by flint and steel, lighters, and such).
Heat Manipulation- 
Extreme Temperature Homeostasis
A native speaker of English. He knows Irish fluently. He can get by with Russian though it is some bad Russian.
Left handed.
He is bisexual but has a preference towards women.
Voice:
The club (♣) is a preferred symbol of his.
Ad blocker interference detected!
Wikia is a free-to-use site that makes money from advertising. We have a modified experience for viewers using ad blockers

Wikia is not accessible if you've made further modifications. Remove the custom ad blocker rule(s) and the page will load as expected.