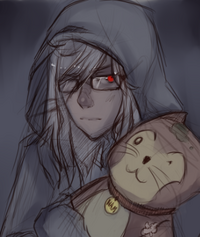 Name: Zasha Belikov
Human
Partner: Aitouxelle
Element: Blood
Age: 28
Birthday:
Hometown: Russia
Reference: Deviantart
Zasha Belikov is a bonded human formerly employed in the DAMMED program. He is bonded to Aitouxelle Itim D'Zwart.
No longer available for RP purposes.
Personality
Background
Pre-bond
Sickly nerd.
Post-bond
He bonded with Ai. Made sweet lovin' with Ai. Founded DAMMED. Exploded DAMMED. Now he's gone and done fucked people's shit up.
Powers
Active
Passive
Relationships
Ai
Lovers
Also Ai
Friends
Allies
Acquaintances
Not Friends
Trivia
Blends in with the sheets and snow