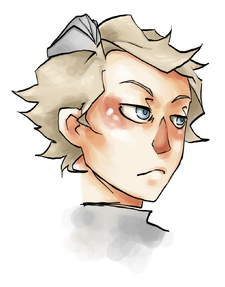 Name: Uwe Wolmarf
Human
Partner: Ladon Knucker, previously Cormag
Element: Electric, previously wind
Age: 30
Birthday: xx. xx. 1986
Hometown:
Reference: Deviantart
Uwe Wolmarf is a bonded human who is currently a DEVIL research subject. He was formerly recruited to the DAMMED program and was previously bonded to Cormag, a wind demon
He is bonded to Ladon Knucker, an electric demon
Personality
herp
Background
Pre-bond
Post-bond
Year 1
Year 2
Active
Passive
Relationships
Friends
Allies
Acquaintances
Not Friends
Trivia
Ad blocker interference detected!
Wikia is a free-to-use site that makes money from advertising. We have a modified experience for viewers using ad blockers

Wikia is not accessible if you've made further modifications. Remove the custom ad blocker rule(s) and the page will load as expected.