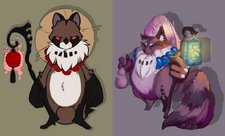 Common Name: Tanuki
Scientific Name:
Elements: Holy, shadow
The tanuki is a species of genetically engineered lesser demon created in the DAMMED laboratories by Donni Net and Irata.
Iago is shadow tanuki who was won by Jenner as a pet in Halloween contest in 2012, while Wesley a holy tanuki won by Addule in a similar contest in the same year. They are the only two of their species presently known.
Etymology
Description
Behaviour
Abilities
Trivia
Ad blocker interference detected!
Wikia is a free-to-use site that makes money from advertising. We have a modified experience for viewers using ad blockers

Wikia is not accessible if you've made further modifications. Remove the custom ad blocker rule(s) and the page will load as expected.