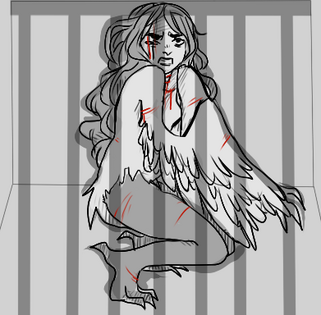 Sibbi And The Siren
was a roleplay that took place on 7/27/2012.
The log of this RP can be found here.
Summary
When Bell first met her new partner, Sibbi Caspersen, she was displeased with his attitude towards being a soldier. He had an unrealistic view towards war, seeing it as adventurous and romantic. Bell went to Otis Maelstrom and asked for help to break him of these ideas, but Shamira Barker, the captain of the guard, ended up intervening instead.
Not long after this, Bell and Sibbi were taken to the biodome by Shamira and Otis for his 'lesson'. Otis and Bell left to gather recruits so that it would be a public display. They gathered up a crowd of voluntary recruits, who went to the upper observation deck to watch the disciplinary action. Among the crowd was Samie Jean Pindle, Nehnna, Argent Singh, Ruben Greene, Addule, Winter Moon, Nicholas Sullivan, Dex, Roderick, and Logan Howlett.
Down below, Sibbi and Shamira stood on a beach landscape, alone with a cloth-covered box. The recruits watched as Sibbi was questioned about what he believed it meant to be a soldier. Shamira made a point to speak about following orders, and how a soldier does not choose what orders they can follow. She then revealed that behind the cloth was a caged and frightened siren demon. Shamira explained that the siren was wounded, mute, and also a mother of three. She then gave Sibbi a gun and opened the cage.
While the demonstration had been advertised as voluntary, the recruits at this point were not allowed to leave. Many of them, especially the demons, found the demonstration to be extremely difficult to watch and were desperate to get out, but Otis kept them in the viewing room. Bell herself was furious, as this was not what she had expected to happen in his lesson.
Although Sibbi tried to excuse himself at first, the siren attacked him and he shot at her. Some of the recruits in the observation deck attempted to help him in this fight by directing him on what to do and how to wound the siren without killing her. However, in the end he shot her in the head to end her pain quickly.
The fight did not last long, but it unsettled the recruits who had watched. Many of them left the biodome shaken and angry, and they would not soon forget what they'd seen.
After Effects
Instilled a lack of trust in the entire base afterwards
Sibbi felt guilty as fuq and is still troubled about the event to this day
Trivia
Ad blocker interference detected!
Wikia is a free-to-use site that makes money from advertising. We have a modified experience for viewers using ad blockers

Wikia is not accessible if you've made further modifications. Remove the custom ad blocker rule(s) and the page will load as expected.