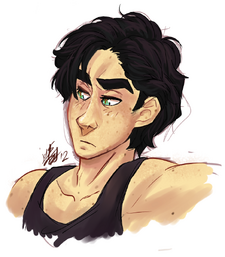 Name: London Knight
Human
Partner: Clearly Lathyrus
Element: Shadow
Age: 23
Birthday: September 3rd, 1992
Hometown: Birmingham, England
Reference: Deviantart
London Knight is a bonded human who is currently a DEVIL research subject. He was formerly recruited to the DAMMED program and is bonded to Clearly Lathyrus, a shadow demon.
Personality
London is very much the sit back and observe type. On the outside he appears very calm and analytical, nearly to a point where it's almost off putting. He doesn't make a point to cater to others social customs and often appears cold and uniterested when not mentally stimulated. Contrary to his seemingly negative adittude most of the time he does enjoy the company of others, once befriended he will be loyal and and reliable till the end.
Background
Pre-bond
Post-bond
Years 1 + 2
Year 3
Year 4
Active
Passive
Relationships
Lovers
Friends
Allies
HE IS A FRIENDLESS HERMIT YUPPIE THAT NEEDS TO BE MORE TALKATIVE 
Acquaintances
Lewis Lavoy
Flint
Emma Flynn
Liet
Not Friends
Trivia
Ad blocker interference detected!
Wikia is a free-to-use site that makes money from advertising. We have a modified experience for viewers using ad blockers

Wikia is not accessible if you've made further modifications. Remove the custom ad blocker rule(s) and the page will load as expected.