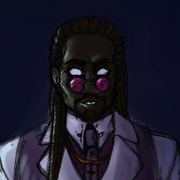 Name: Legba
Demon (YOU DON'T WANT TO KNOW)
Partner: Gisele Delacroix
Element: Shadow
Age:
Birthday:
Area of Origin: Haiti
Reference: Photobucket
Legba is a bonded shadow demon and member of the island Council. He is bonded to Gisele Delacroix.
No longer available for RP purposes.
Personality
Dapper. Very dapper.
Background
Active
Passive
Physiology
Demon Form
Human Form
Relationships
Gisele
Friends
Allies
Acquaintances
Not Friends
Trivia
Ad blocker interference detected!
Wikia is a free-to-use site that makes money from advertising. We have a modified experience for viewers using ad blockers

Wikia is not accessible if you've made further modifications. Remove the custom ad blocker rule(s) and the page will load as expected.