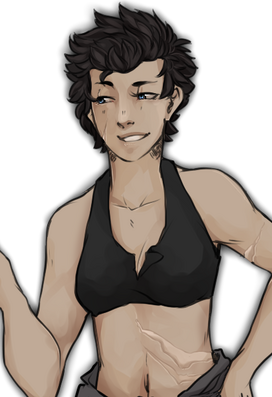 Name: Faina Pavlov
Human
Guard
Age: 26
Birthday: October 31st, 1987
Hometown: Vorsma, Russia
Reference: Deviantart
Faina Pavlov is an unbonded human who was formerly employed as a guard. No longer available for RP purposes.
Personality
She's quite the outgoing woman when you meet her, she'll always have a smile unless she's playing tricks. She's bouncy and open, usually accepting of just about everything. She'll meet and greet you with open arms, but deep down she's most likely only accepting you if you're human. She has a resentment against demons, but she doens't openly show it.
She'll make a joke with just about everything, and do everything in her power to make another person smile (even if it means degrading and insulting a comrade).
Background
Pre-Shipwreck
Post-Shipwreck
Relationships
Friends
Allies
Acquaintances
Not Friends
Trivia
Ad blocker interference detected!
Wikia is a free-to-use site that makes money from advertising. We have a modified experience for viewers using ad blockers

Wikia is not accessible if you've made further modifications. Remove the custom ad blocker rule(s) and the page will load as expected.