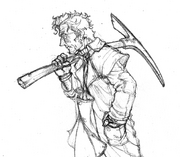 Name: Bruno
Human
Partner: Jasper
Element: Earth
Age:
Birthday: ???
Hometown: Australia
Reference:
Bruno is a bonded human and member of the island Council. He is bonded to Jasper, an earth demon.
No longer available for ​RP purposes.
Personality
Background
Active
Passive
Relationships
Friends
Allies
Acquaintances
Not Friends
Trivia
He's Down Under. GET IT? GET IT? GETITGETITGETIT?