April Fool's Day 2012 
was an event that took place on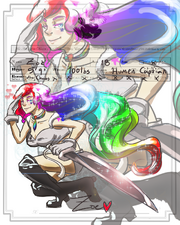 (spoilers) April Fool's
Day 2012. 
The roleplay can be found on scribd.
Prep
Originally, there wasn't a plan for April Fool's day thing planned for DAMMED. There were ideas tossed around but none stood out until Inu  suggested that sue characters should be made for it. Aimee and Sunny jumped right on that and took in suggestions on making the perfect Mary Sue characters. 
From there, dummy accounts on deviantart were created with the apps uploaded to them then submitted to the draft list which at the time was almost ready to be closed to accept new members. Then a journal was posted announcing that there would be two new captains of DAMMED. They were the sues.
In the chatrooms, the dummy accounts were promoted and then they started rping...
Summary
It was horrible. Oh my god.
After Effects
Nothing. It wasn't canon.
Trivia
Many people won that night
The term "death cupboard" was coined after this rp
The term "caek suup" was also coined
Ad blocker interference detected!
Wikia is a free-to-use site that makes money from advertising. We have a modified experience for viewers using ad blockers

Wikia is not accessible if you've made further modifications. Remove the custom ad blocker rule(s) and the page will load as expected.