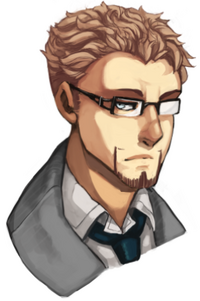 Name: Justus Friedmann
Human
Director of D.E.V.I.L.
Age: 42
Birthday: January 5, 1974
Hometown: Linz, Austria
Reference: Deviantart
Justus Friedmann is the director of DEVIL, and is stationed at its headquarters, Facility 66.
Personality
Everything must be right. Everything.
Background
Justus popped out of his mom. And he has had that expression for the rest of his life. He has been unsatisfied since birth.
Relationships
Lovers
His gloves. Hand sanitizer.
Friends
Collegues
Acquaintances
Not Friends
Trivia
His best movie is Der Humpink
Ad blocker interference detected!
Wikia is a free-to-use site that makes money from advertising. We have a modified experience for viewers using ad blockers

Wikia is not accessible if you've made further modifications. Remove the custom ad blocker rule(s) and the page will load as expected.